Although I've made quite a few fixups and simplified much of the code, I am still not happy with our current website, because it's messy (inconsistent, too square, too many lines, strange colors, etc). Now I know the logo hasn't been decided yet, but while fiddling with it I couldn't help myself and I went on to do a redesign of the website. Here's a small thumb, click for a larger image: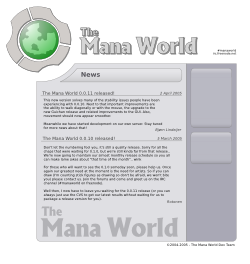 I'd like to know what people think about it, and wether it could be accepted as our new website, and which modifications people would like to see.
The design in SVG format:
http://www.lindeijer.nl/~bjorn/tmwwebsite.svg
Here's a
small variation
.