Wow, thanks for doing all this, Ali-G. It's very helpful. So.
I haven't examined everything in detail, but:

Knit Cap
: it looks good, but it uses a great deal too many shades. The palette needs to be reduced to five or six different shades.

Gladiator Helmet
: rather cartoony and rough. It's the shape of a helmet, but it doesn't look like a helmet. It lacks shininess and detail. This would need a full makeover to be used.

Sunglasses
: the frames look too dark, and the lenses look flat and dull. They should be more reflective-looking.
Futuristic Glasses
: the lenses don't look too bad, but the frame should be lighter.

Assassin Cap
: in a similar way to the Gladiator Helmet, this just doesn't seem to be made of anything. It's a shaded shape and not very well shaded at that.
Barrel
: probably good enough, but the death frame will need to be adjusted so the player is at the bottom of it and not floating in the middle. A real barrel has six hoops, but that probably doesn't matter too much. The hoops could be shinier and more metallic, too.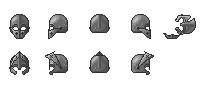 Visor Helme
t: suffers from directional pillowshading, which makes it look formless and flat.
Herb Crown
: looks more like yellow plastic than gold, and the herbs have no apparent way of being attached. I think it's rather silly but the shape is alright if someone wants to improve the shading and give the herbs an outline.
Burglar Mask
: again, directional pillowshading. It's hard to do much better on a sprite that small but it can be done. Needs an outline.

Pan Hat
: the shape needs to be more precise; it's very rough. It also uses a lot of shades and has inconsistent (pillow) shading.
Winged Helm
: possibly a bit dark, but I like it.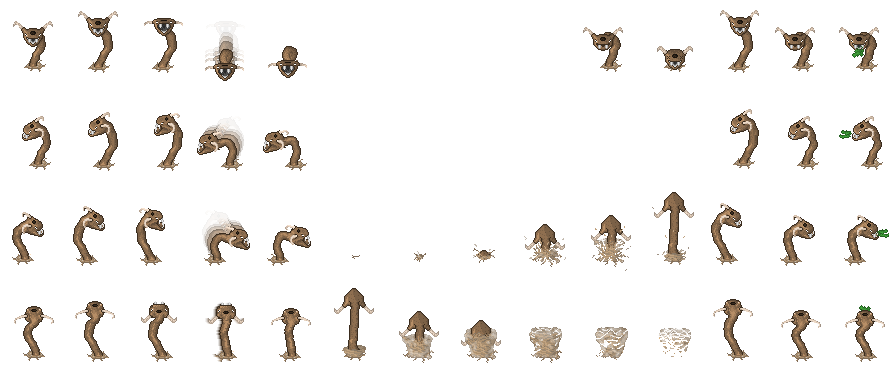 Trozz
: the shape of the body is very jagged. For a creature like this a lot of effort would need to be put into making the neck smoothly curved. It doesn't appear to have any muscle, either; it's just a tube with scattered shading. And I don't like the motion blurring
at all
; that's not how it should be done.
Sick Tree
: as a concept sketch I really like it. As a finished piece of pixel art it has too many shades and not enough detail.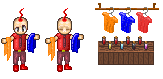 New dyer NPC
: like the design, but is missing a dark outline in some places. The bottom of the shirt and top of the pants are very square, too, and the folds in the hanging shirts don't like like folds but dark lines (although you can tell what they're supposed to be).