The tag was meant as a joke and I apologize for offending you with it.

http://forums.themanaworld.org/viewtopi ... =5&t=10824
I wanted brown rocks not grey ones
Your still going to need some color variation, when you have something that is brown its not just the same shade of brown. It has browns that are cool and warm within it (generally they move to more complementary colors of each other). What I'm trying to say is you drowned out a lot of the variation in hues, my edit has the same problem (but the cold geenish gray adds something for the sand to work off of, however poorly). Its best to use the color editors as little as possible, or in small increments at a time.
Did you edit each part separately while editing the colors, because some parts of the cliffs lean towards red while others parts yellow? It makes it somewhat obvious where one tile ends and another begins. You can write the values of the first edit you do and apply them to the next section exactly, if your unable to isolate everything you wish to edit at the same time for some reason.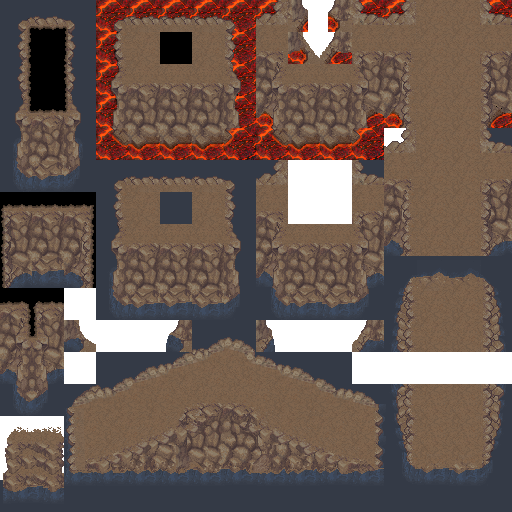 wushin I like the caves, but I think you need a little more contrast on the wall. Also it might be interesting to have more red from the lava reflected off the parts of the wall that are near it (I see you did it a little) .