I've tried to give the characters some better shading and also modified the legs not to stand out so wide. Also note the drop shadow I've included below the character. The point is to draw this thing separately so that it doesn't need to be included in the character sprite, of course.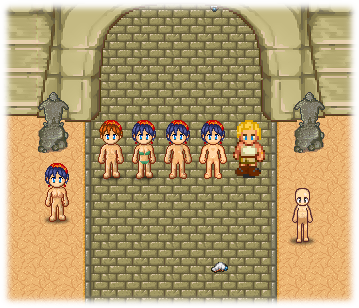 I've put a standing frame of the other player character in development in the picture as well for comparison. Although the boy and girl look pretty young, I think they fit the the game better.
I know Clef has also done a bit of fiddling with Talaroc's player character to make it look better. I would ask the artists to please work together on this and don't feel afraid to post modifications of eachothers work. The player character is the most important animated sprite in the game, and we really need to agree on a common style and then get the animation frames done. I think by now it is pretty clear that doing all the animation frames is a lot of work and should probably not be done by a single person.