Here's some odd WIP's that i have around that might be of interest.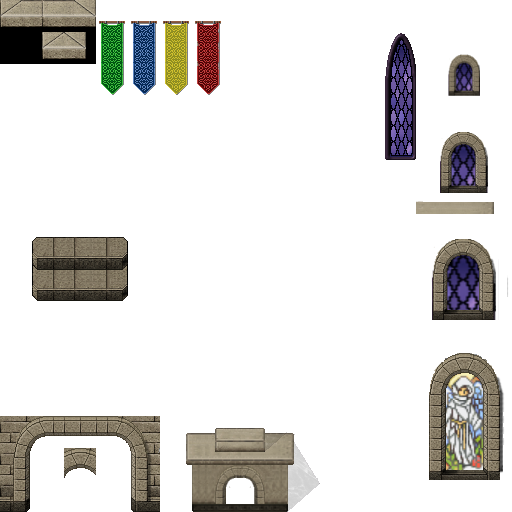 An add-on tileset to go with I's block wall tileset. Since that standard size tileset was about full and I wanted to make some things like the archway, I made an addon set. IDK if the windows "fit" well but i think they look nice. Those are ripped from free GPL tileset, but are more if a concept of what could be done for windows with that tileset. The stove is mine. idk if i got the shading right, but it's a wip.

This is a WIP of a new style interior, it's very rough and not done. Really I'm working on the wood textures but i think it isn't how we should portray wood exactly but think it should look "something like" it.
Just an example of the archway in use. The road and grass are not tmw, testing the color of green for grass really. I find the woodland one to bright and the swamp one kinda dingy but kinda blah. The road is from a open tileset that i believe is even used in some games. I know there's a aversion to using any non-tmw graphics, but perhaps including more would alleviate the lack of new tiles to work with. I have a rough concept for a new roof to go with the blockwall set but would like to see if anyone else makes some new roofs.
Any feedback and help would be greatly appreciated.
-Merlin