Hi everyone. I wanted to attempt to contribute something as useful as possible, and I was told that at the moment running sprites wouldn't be a bad place to start.
Only stick figures at the moment I'm afraid, I'd like to get some opinions on the number of frames needed before I start.
Modanung suggested that four frames might do for running:
(obviously, I haven't done the limbs on the opposite side here, they're only stickmen after all~)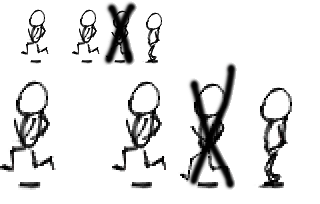 However, I thought that looked almost comical. Reminded me of Super Mario World. So here's what 6 and 8 frames would look like respectively. The 8-frame version would be the 6 sprites, but with one of the transitional sprites used twice. Clearly speed can be tweaked later, so here just thinking about smoothness:
6 frames:
8 frames:
By all means, if the consensus is that 4 frames would do, whoopee, less work

Also, I have to say I don't fully understand the whole xml animation thing, so please correct me if the reusing the same sprite twice thing wouldn't be possible for the 8-frame version.
So, let me know what's what and I'll try it with sprites.
Cheers!