Lets see what we got in TMW. We got new splash screen, a bunch of new tiles and maps. And old GUI. So I was trying to change that, and found some potential problems for future skinners.
I start from slide bar, because old one IMO looked strange... Here is result:
New slider is basing on Ubuntu Human's theme. Colors of bar are the same. Round button in new.
I also marked unused parts of image with green. Below I present this png at 800% zoom.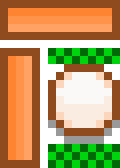 Slider Map file:

And legend:
Red
- [4x6px] - begin and end of horizontal slidebar
Yellow
- body of horizontal slidebar
Blue
- [6x4px] - begin and end of vertical slide bar
Light blue
- body of vertical slidebar
Black
- slidebar button
Green
- unused
I suggest to make map to every file used in GUI and place it on TMW.wiki.
Next I wanted to change borders of windows. But modifying thickborder.png won't worked and then I realize that we are using
vscroll_gray.png
instead of
thickborder.png
for scrolls and windows borders. And here is my question:
Why?
That would be nice to have skinning tutorial and let people to make their own skins. Maybe skins should have XML files describing areas of element on image.
And one more thing. Please do not post thing like: "Yeah cool", "great job", etc. Only constructive posts will be appreciated.
Edit:
ingame screenshot: