conceptions? coding? implementation?
<Kage_Jittai> ... are you saying I am elite

<thorbjorn> Yes.

I was thinking the story itself.
Serf wrote:I was thinking the story itself.
That would be conception.
<Kage_Jittai> ... are you saying I am elite

<thorbjorn> Yes.

http://forums.themanaworld.org/viewtopi ... it=#p81517
This link will take you half way down the "backstory" topic to give you an idea of the mood for quests. Don't bother reading posts above that one.
Basically, the townsfolk don't care to much for you (being that you belong to the "academy").
Familiarize yourself with the capabilities of the new TMW and some of the topics related to the island conception (Somewhere in the CR forum, you can see a map).
Thanks
Ok thanks.

So should I just post anything I come up with here?

Do you think someone could possibly link to the map, I'm having trouble finding it.
the map is not as useful as some of the information in other topics. The academy represents the tutorial if I understand correctly (at least in CR1). This means that those quests will teach the player gameplay, which isn't wholly thought out yet. Not much more than the academy, the village, and the farms will exist initially. These other two areas would be great places to start making some fun quests.
The only problem with quest creation, yet, is lack of content knowledge (monsters, surroundings, etc.)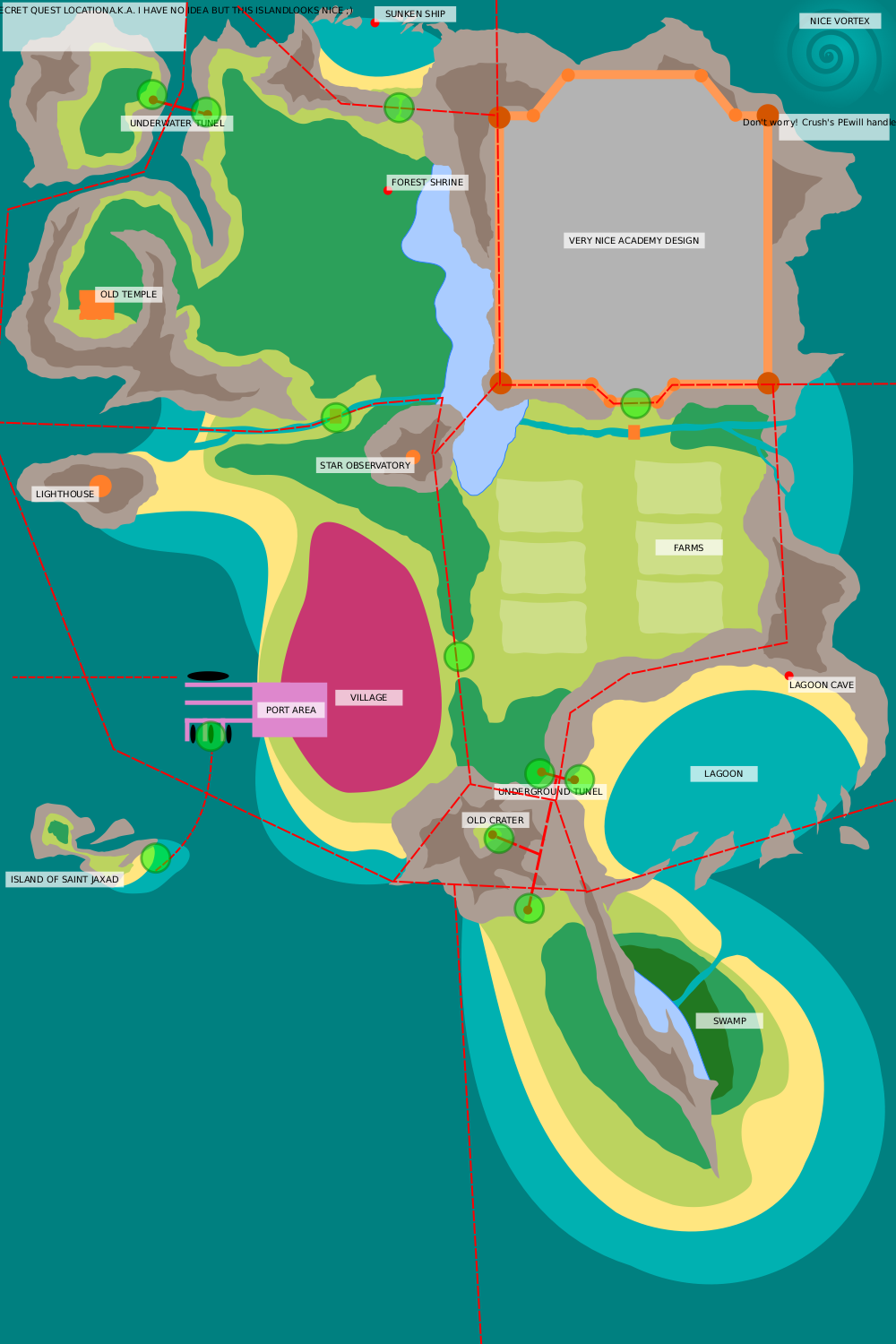 Ok thanks I just wanted to get a feel for things but i'll continue scrounging through the CR1 area.
I was a little unsure of what to do on the tutorial so I skipped that (for now) and went on to the starting quests (entering the village).
Scholar:
Now that you understand the basics, you may venture into the village to obtain your first weapon. However, I do warn you, some of the villagers can be a bit unwelcoming towards the students of the academy. I wish you luck.
Weapons Person:
Who are you?
Oh... Another one of those academy students are ya?
Well I don't do business with anyone from the academy.
What? You haven't got any way of defending urself?
Well... I suppose I could lend you a weapon.
(player gets the choice of a few different ones... daggers, sword, bow, etc.)
There be off now! I'm very busy!
Quest log says something like return to the academy.
Scholar:
AH! Welcome back my young apprentice. I see you have returned with a weapon.
Good! You may need it for this next assignment.
I've just received word that some pesky (monster) have been seen around the academy walls.
Mind going and taking care of a few of them for me?
(based on the above map the monsters would be just outside the academy entrance before you cross the bridge to the farms, with a few possibly across the bridge as well.)
Quest log say go kill "x" monsters.
Scholar:
Done already? Well I haven't any other quests at the moment. How about you visit the village?
Not all of the villagers are as hostile as others. In fact... I think Jimmy the farmer has been needing some help around the farm. You could pay him a visit.
Jimmy:
Huh? What do you want?
You want to help me around the farm?
Well, since you're here I might as well put you to work.
You see, I have been looking for a few new seeds to plant, but I just don't have the time to go out and find them.
How about you go and find a few for me?
(tells location found, or monster killed ((to get)))
Once all the seeds are found return to Jimmy.
Jimmy:
Wow thanks so much, you really saved me a lot of time.
You're a good kid... If you ever need work just come talk to me.
*REWARD*
"Jimmy" could become a good friend, offering many quests, taking your side when things possibly go sour with the villagers.
This would also be a good time to introduce the main conflict (if any) to the character.
Last edited by
Serf
on 28 Mar 2010, 19:19, edited 2 times in total.
I have a few questions.

Whenever you create your character in CR1 will you choose a class like mage warrior etc., or will it just be what weapons and armors and stats you choose?

And, if so, will there be a room (or area) for every different profession that you go through to learn about them?

I have more questions but most probably can't be answered at this time so I'll just hold off on the tutorial quest(s).
No classes, jobs, whatever. Everything is fluid and under the player's control.Characters will start out with the stats the player has chosen when creating them. Everything else will happen as they develop the character. We're going to focus on a learn as you do system. As you use a weapon type, you gain skill in it. Maintaining skill in several weapon types, magic, ..., will be impossible, so you will have to specialize, but you can do it how you want, and not be forced to follow one of a few predetermined templates.