I had spoken to Rotonen, and he assigned me the task of creating concept art for the jungle. And when I read up on the wiki, the only jungle it described was called "Gaeas Hearth" which sounds like it's going to have thriving life and gigantic trees and possibly fruit. That the flora should be so florishing can only mean that the fauna will look colourful and adapted.
Most of the buildings will have an overgrowth of plants, vines, flowers, fruits, and anything else that represents life interwined within and all over the structures.
My first thought was "Mayan" but now it's sort of changing into a kind of fairy like people (but still completely human, just cultural wise). I'm probably going to stray from the culture a bit, but it's being built off of.
Here's a quick sketch I did after I talked with Rotonen of an idea for what I was thinking about. I won't actually draw anything until I get an "ok" on a sketch.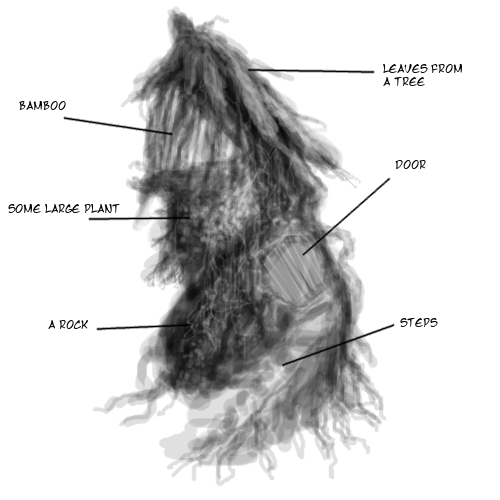 For those of you that don't know me, I'm an illustrator that used to work for a publishing company. Here are some examples of my work so you can get a bit more aquainted with my style.
I'm learning how to program c++ (which is actually how I came across the project) but until I can help the Open Source community with that, I decided I'd help with art.
Well, that's that! I'll post up in this thread with updates and discussion about the concept art.

I'd like to end up drawing an epic depiction of the jungle with the mana empowered heart at one point.
Edit: Ok! I just thought of something neat. Hope it's an ok idea. I was thinking the area is so overgrown, that the city there has to live underneath an overgrowth of plants and gigantic trees roots putting them in darkness. But, the vegitation in the area underneath need sun of course, so plants will grow vines to the top and redirect and create a new source of light at the bottom via it's own chemiluminescence which helps everything recieve light underneath. It would create a sort of permanent state of night lit up by plants that shine light like lamps all over the place. Good idea? Bad idea?